xConnectNW 138 - UI Arboretum & Botanical Garden
xConnect Northwest
We feature the beautiful sights of the University of Idaho Arboretum & Botanical Garden
Producer: Tyler DeLong | Associate producer
Online Version: Tyler DeLong
Posted: Nov.18, 2015 | 12:00 a.m.
_____
The Charles Houston Shattuck Arboretum located immediately west of the University of Idaho Administration Building and North of the U-I President's Residence provides both students and members of the community with a unique opportunity for plant study and plant observation.
On this episode of xConnectNW, we're talking with Paul Warnick, arboretum horticulturist superintendent at the Arboretum and Botanical Garden at the University of Idaho. 
 "This time of year we're shuting down for the winter," Warnick said.
Additionally, Warnick said that he is preparing the irrigation system for winter, quite a bit of leaf clean-up, wrapping trees, and caging plants from animals. 
"The arboretum was dreamed up by university professors back in the mid '70s," Warnick said. "There concern at the time was not enough plant diversity on campus." 
Warnick said that rotary volunteers started working on the Arboretum in 1982 planting plants. The arboretum was strickly volunteer work until 1987. 
"When the arboretum began ... it was empty fields," Warnick said. "Now there are more than 15,000 plants.
Warnick said that the beaufty of his job is that the arboretum changes on a daily basis. 
"The primary seasons tend to be spring and fall," he said. 
In spring there are large amounts of both lilacs and crabapple trees Warnick said. 
Additionally, there are ground covered roses, and plants that are traditionally considered spring flowers.  
There are four sections at the arboretum "an eastern north American section, a western north American section, a european section and and Asian section. 
"[The arboretum] will never be done ... it will evolve and change all the time," Warnick said. 
UI Arboretum and Botanical Garden
Related Content From Our Public Media Partners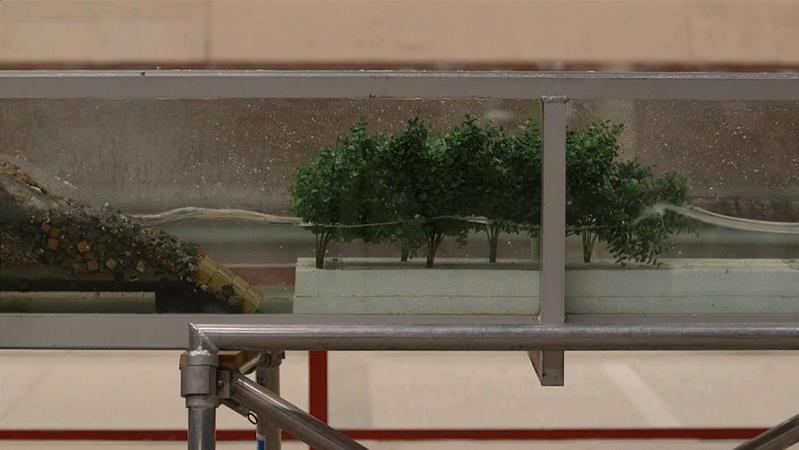 NOVA
Planting trees in front of dikes is one way to keep large waves from flooding the shore.
Nature
Flowers use caffeine to attract bees, Mars rover finds the planet was once habitable, and
NOVA
Scientists find that plants can act altruistically toward their siblings.